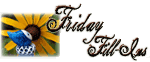 And…here we go!
1. As you can see I AM ALREADY PACKING CHRISTMAS GIFTS TO BE DECORATED UNDER OUR CHRISTMAS TRESS
2. CHRISTMAS WILL BE HERE soon!
3. I love to buy CHRISTMAS GIFTS IN ADVANCE.
4. FINISHED WRAPPING 12 gift(s).
5. What's up with YOUR CHRISTMAS WISH ?
6. I AM COUNTING WEEK IN MY fingertips.
7. And as for the weekend, tonight I'm looking forward to BE ON BOARD ON OUR WAY BACK HOME FROM OUR VACATION, tomorrow my plans include SEGREGATINGS THE THINGS I BOUGHT FROM MY SHOPPING SPREE and Sunday, I want to BE WITH MY FAMILY WATCHING " BREAKING DAWN…!