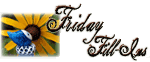 And…here we go!
1. How can I MEND THIS BROKEN HEART? ( just a song anyway…)
2. SEA weeds ? I DON'T IT.
3. My hair IS NOW BACK TO BEING WAVY .
4. FAMILY reunion AGAINT PLEASE….
5. My favorite summer fruits ORANGE.. COZ IT'S LOADED WITH VIT C.
6. MY KIDS WHISPHERING AT EACH OTHER…..…what was that?
7. And as for the weekend, tonight I'm looking forward to WATCH DVD " MARS NEED MOMS", tomorrow my plans include BLOGGING AND SLEEPING and Sunday, I want to SING PRAISES TO GOD!