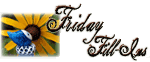 I was about to make a post about my favorite Friday Meme ( FRIDAY FILL-INS) because for almost a month now the site was not updated. Thank god when I open it today.. it was there… ready to roll… Get well soon my dear. Praying for early recovery.
1. My back IS ACHING DUE TO MY TAEBO SEASSION WITH HUBBY EVERY MORNING.
2. OUR DOG " BUBBLE" IS PREGNANT AND SHE IS GETTING wild.
3. Leaves are falling all around, AND SOON IT WILL BE WINTER.
4. I HATE MY forgetfulness.
5. Healing is GOD'S WAY TO SAY " HE CARES…."
6. POSTING PICTURES ON FACEBOK is what I've been up to lately!
7. And as for the weekend, tonight I'm looking forward to OUR DATE DAY WITH THE KIDS _____, tomorrow my plans include REST…REST.. REST.. and Sunday, I want to BE REFRESHED BY THE PRESENCE OF GOD !