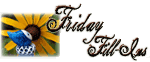 L So…here we go!
1. One of my strongest beliefs is JESUS WILL BE COMING BACK SOON.
2. INTERNATIONAL AIRCRAFT IS huge!
3. The sky is cloudy with a threat of rain and wind and cold, so I BETTER STAY HOME.
4. CRAWLING INSIDE MY BLANKET THIS RAINY SEASON is comforting to me.
5. I always thought I'd be A NURSE !
6. I SIPPED MY TEA and then I went outside to look at the full moon.
7. And as for the weekend, tonight I'm looking forward to MY NEPHEW'S BIRTHDAY, tomorrow my plans include REST REST REST… STILL HAVE COLD and Sunday, I want to GET UP EARLY AND PRAYING I'LL RECOVER FROM MY COLS!