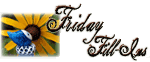 So…here we go!
1. Wow, it's WEEK-END ONCE AGAIN.
2. THE WEATHER IS beautiful.
3. My favorite way to start a day is WITH A GLASS OF COFFEE AND MY FAVORITE BUN.
4. I WATCHED THE MORNING SHOW and he walked in the door holding a pumpkin.
5. I look out my window and see KIDS PLAYING ALONG WITH OUR PETS.
6. OUR HOUSE RENOVATION is what I've been thinking about lately.
7. And as for the weekend, tonight I'm looking forward to EAT AND EAT, tomorrow my plans include KIDS TUTORIAL SINCE EXAMS IS COMING and Sunday, I want to GO TO THE MALL WIDE SALE!